Collegiate currently sits at 9-1, finishing first in the Charter-School League with a 5-0 record. We last saw the Cougars in round one of the playoffs defeating Detroit Osborn by a score of 28-22. Collegiate has made the playoffs 11 of it's 12 seasons and hold an overall playoff record of 10-10. The Cougars are coached by John Guth now in his 12 season.
SMCC finished 2nd in the Huron League with a 6-1 conference mark and are 8-1 on the season. The Falcons have qualified for the playoffs 17 of the last 20 seasons and have an overall playoff record of 47-21. In his 5th season leading the Green and Gold, SMCC is fronted by Coach Adam Kipf. This will be the first meeting between these two programs on the football field.
Monroe SMCC Falcons (8-1 Huron League)
The Falcons once again will showcase their usual punishing ground attack out of the Full House T offense. Relying heavily on their talented senior running back trio of Sam Cousino(593 yards 10TD), Wyatt Bergmoser(708 yards 8 TD) and Alex Morgan(1107 yards 11 TD). The Falcons average 8.21 yards a carry as a team. Christiaan Harrington (13 for 21 for 324 yards and 4 TD's) will take the snaps for the Falcons.
Of course the heart and soul of any ground attack is the Offensive Line. Up front for the Falcons are Connor Bogdanski(6'3″ 285lbs), Luke Bilan(6'1″ 230lbs), James Hawkins(5'7″ 235lbs), Brendan Sloan(5'10" 205lbs), Zach Patterson(6'3″ 235 lbs), Mason Gullen(6'3″ 235 lbs), Gus Flint(5'11" 190 lbs), Jackson Strube(6'1″ 205), Nieko Castiglione(6'0″ 200 lbs).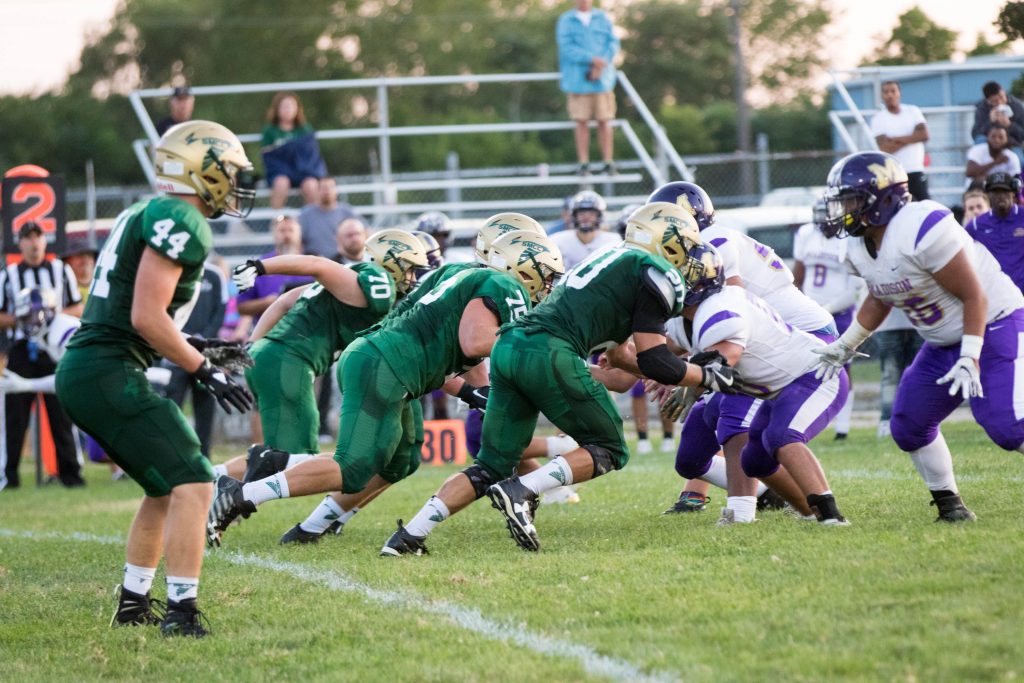 Defensively the Falcons give up 15.9 points per contest and are led by Cousino, Ezra MacLaughlin, Bergmoser, Flint, Gullen, Gavin Witaszek, Jace Worrell and Castiglione.
Comment from Coach Kipf: "Collegiate is a well coached football team. They have a lot of skilled, speedy athletes. They play the game very well, very tough. We need to win the battle upfront in order to win this game."
Michigan Collegiate Cougars ( 9-1, Charters-School League)
Collegiate runs a varied attack out of spread shot-gun formation. While they can throw the ball, their main focus is on the ground with plenty of ball carriers handling the load. QB Darius Love (1285 yards Rushing 15 TD / 475 yards passing 6 TD) is the straw that stirs the drink. The Cougars also feature, Demarco Black (796 yards Rushing 5 TD / 124 yards Recieving 4 TD), Tre Redding (323 yards Recieving 5 TD / 432 Special Teams yards 4 TD). Center Trevon Daniel(5'10" 240lbs) anchors the offensive line that rushed for 3152 total yards.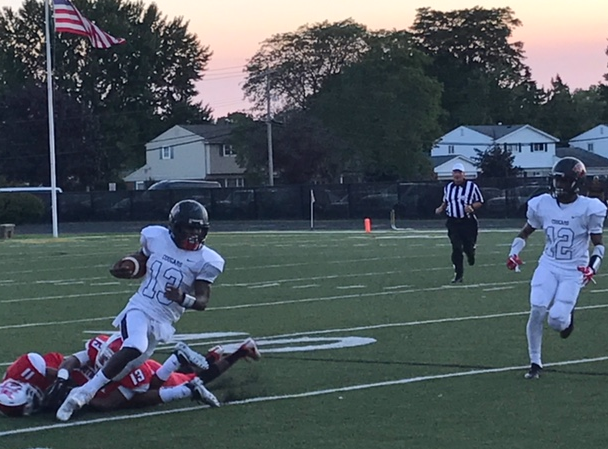 Defensively the Cougars boast a speedy aggressive attack, giving up 13.2 points per game on the season.
Comment from Coach Guth: " We need to have discipline and be mentally tough to win against a great team like SMCC."
FNV Thoughts: I personally cannot wait for this game. I have the feeling it's going to be a great one. Pitting two teams who absolutely think they can get the win and who some think, can make a very deep run in the playoffs. The Cougars and Falcons are ranked 7th and 18th(in the state) respectively, with a 75.8(104 games) and 71.5(603 games) winning percentage. There has been a little shade cast by Coach Guth in the Macomb Daily saying things such as, his Cougars are definitely faster(than SMCC). He even went on to say they aren't going to beat the T(offense), they are going to break the T. I guess one could say by these comments, that the front man doesn't lack any confidence heading into Friday Night. This is somewhat par for the course if you are the Falcons. Although ranked #1 in the state, they are very rarely mentioned by anyone as a favorite and often overlooked when great programs are mentioned around the state. I do know, that if Collegiate didn't have SMCC's full attention, they do now. So come on down to Historic Navarre Field this Friday 7pm, and see if the T gets broke or if the T breaks one off.